Two weeks ago I had the great honor of meeting Tom.
He signed on for two AdToons videos. One for his main business M3 Learning and another for his charity that helps local families in the Chicago suburbs fight cancer.
Every year his charity puts on a, let's say, unique golf tournament, and it has grown exponentially over the years.
Pictured are belly dancers, along with Jane and Mike, who were in our foursome. Yes, belly dancers. And these lovely ladies were just the tip of the iceberg as far as the surprises that showed up on the course. Santa made it out as well. It's all part of the fun of the afternoon. You can find out why they have these crazy characters on the course at the link below.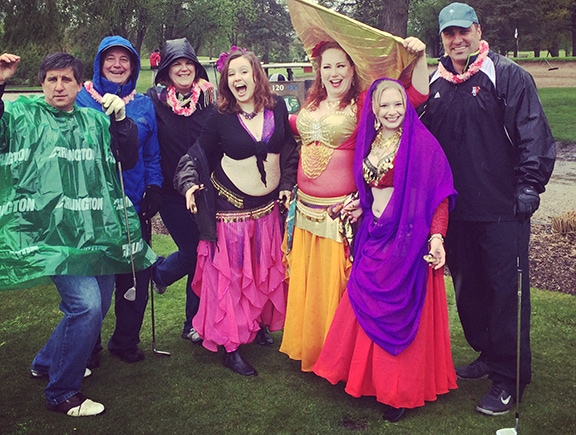 After the golf, there's a dinner to raise even more money. The kids battling cancer and their loved ones are there.
Tom recently asked me if we could do something special for the kids using our unique skillset. So the AdToons team took the kids and transformed them into their favorite superheroes.
Tom needed these illustrations fast, and the AdToons team came through.
I had the opportunity to watch the delight and excitement on the children's faces as they raced to the middle of the room to receive their own prints.
Here is a little video of the kids receiving their personal superheroes.
Click here to watch the video of the little kids receiving their framed paintings.
These children are superheroes as they fight overcome cancer. Some are as young as 5 years old.
I sat with tears welling up as I heard one mom describe her 9-year-old daughter's nightmare dealing with this horrible disease.
I thought about my girls, and how grateful I am to have three healthy children.
Tom, his brother Bill, and the folks at his organization really do a lot for these kids. So I wanted to write you today to spread the word and invite you to support this amazing brother duo who are also superheroes.
You can find out more about this charity, the work they do, and donate here: btbfoundation.org
Every little bit counts.
Best,
Vince Palko