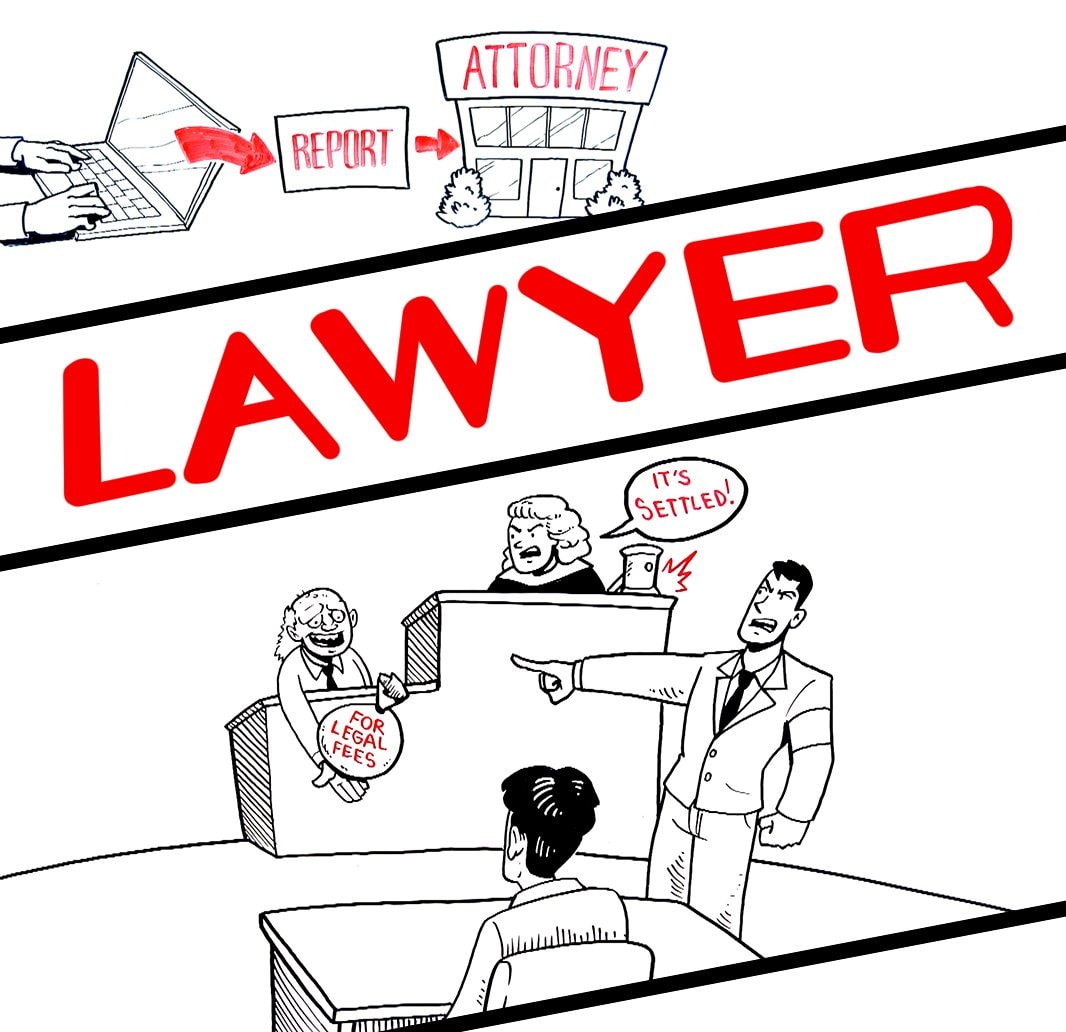 Lawyer whiteboard animation videos
Whiteboard animation videos are just what lawyers or anyone in the legal department need. Our videos get the message out to the masses that need your services in a quick and effective way, which will in turn generate more business for your company or practice.
One of the things AdToons excels at is marketing for anyone in the legal department with our top-notch whiteboard animation videos. Your company will be sure to stand out from the competition. You'll be perceived as an expert because these videos help educate your prospects. We make the point clear that potential customers can't fight the big companies by themselves they need your help. We have worked with a multitude of different legal companies and they all say the same thing "I wish I went to AdToons sooner for some marketing expertise."
Don't wait! Click here to request a FREE consultation.
Maritime lawyer whiteboard animation
Whiteboard Video - Maritime Attorney AdToon
It can be hard for a regular person injured on the job off-shore to think about finding a good attorney when taking on big oil and insurance companies. They're dealing with the stress of dealing with the courts, not to mention their own injuries, pain, and mental condition by their accident. This legal whiteboard animation video for an attorney showcases the importance of finding the right attorney for you before it is too late Otherwise, you'll end up like Joe (the fictional character in the video) who hurts himself while being on an oil rig and can't take on the big businesses by himself.
We went with this approach because people in the same industry will quickly understand that what happened to Joe could happen to them. And to avoid this, they want to take the initiative to find an attorney like the client in this video.
SEO for lawyers whiteboard videos
Debt collector's AdToons video - Castle Law Update
In this video we visualized SEO in a fun way that made it easy for potential clients to understand it and why they need for it within their company. In this legal whiteboard animation video, we make Google out to be like a monster that eats web pages and spits out bad web pages. This is something Google does to some extent when ranking pages. They want to find the best and most relevant pages possible. And, as told in the legal whiteboard animation video, in order to address that you must include relevant, useful and original content to get your rankings up.
Divorce mediation whiteboard videos
Divorce Mediation - – Polly Tatum (Reshot Scene)
We designed this legal whiteboard animation video to make you not want to go through run-of-the-mill courtroom divorce. We point out the reasons not to use court systems, including a typical resolution time of 14 months to two years and the expense. This video makes you want to go with divorce meditation because we clarify how this method makes divorce easier and less stressful because both parties have a say in what happens. This method actually makes your potential clients want to come to you instead of duking it out in the courts.
Immigration attorney whiteboard animation videos
This legal whiteboard animation video for an immigration attorney makes the immigration paperwork out to be a monster, something you want to avoid doing yourself because it can be confusing and filled with questions that are hard to understand. You could call the government for clarification. But that could take a long time and sometimes you won't even get the answers you are looking, which makes the whole ordeal just a big waste of time. With the company in this whiteboard animation video, you can file all the paperwork easily without the hassle.
The method you see in this example animation video is a powerful technique we like to use, which is showing examples. In this case we explain why you should not use the government-issued immigration paperwork and instead go with an easier alternative method that saves you time and energy.
Accident attorney whiteboard videos
Accident attorney whiteboard animation - AdToons - 419-841-3030
If you get in a car accident, and it wasn't your fault, your car still loses value from the crash. You can't do anything about it unless you go to an accident attorney like the one shown in this legal whiteboard animation video.