Vince Palko A.K.A., "The Godfather of Cartoon Marketing"
"The Godfather's pen is mightier than any sword! 30%, 85% even 244% leaps in response and conversions are regularly occurring with the ARTIST'S erasure of boring PowerPoint presentations and talking head videos at web sites and in webinars! His video-marketing breakthroughs dwarf all others in results– and you must not fall prey to evil copycats. Only the Godfather has mastered all the nuances of "cartoon marketing", and is the artist of choice for Dan Kennedy and GKIC. The Godfather is known for his SURE FIRE SALES INCREASES (the only 100% fail safe way to boost sales) and producing lead generators and WEBINARS that work."
– Dan Kennedy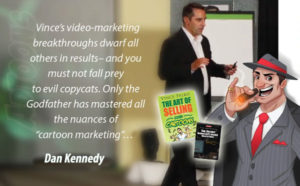 So yous wanna know about our company? I'm glad ya asked. Here at AdToons we have a lot of fun assembling creative marketing videos for clients all over the world, like Dan Kennedy, Rich Schefren, Mike Geary, Matt Furey, Russell Brunson, Craig Ballantyne, John Reese, Loral Langemeier and many more.
We take great pride in the fact that we were the first ones to exhibit whiteboard animation in the form of marketing and selling. Our first gig was for a guy named Mike. We made Mike very happy when we beat his fitness control video by a whopping 353%.
Soon after many knock-offs came onto the scene. That's alright – 'cause we like competition. It only makes the final product better for you.
A little more about me…in some circles I'm known as the Godfather of Cartoon Marketing. Don't worry though, I've never been involved in any mafia activity; I just play a wiseguy on TV.
But seriously though, I literally wrote the book on The Art of Selling Using Cartoons back in 2006 way before it was hip to have a cartoon on your website. And I've spent the last 17 years in the making pioneering cartoon marketing on the Internet. So, yes, I've been immersed in this stuff for a long time. And I'm passionate about helping people like you develop engaging marketing campaigns.
I'm even more excited about the team of outstanding creative folks and professionals we've assembled. They are truly art geniuses. But we are not just artists. In fact, we are marketers first because in the end this mindset is what delivers you more leads and sales than any other provider out there.
How do I know? Well, look at these results on our Testimonials page. And these are just the tip of the iceberg. We are not some fly-by-night company trying to cash in on the whiteboard wave gold rush. We have the experience and expertise that will bring in profits for you, no matter what your niche or interests.
We look forward to creating something special for you!
Best,
Vince Palko