As marketers we just want to be heard.
Right?
In this post, I'm going to dispel the myth you need more traffic to your website to grow your business.
You don't. You simply need…
Video engagement.
What is video engagement? It's how long a viewer stays with the message you are communicating through your video.
The best part is, with new technology you can track this engagement.
Think of it as a kind of weird two-way mirror marketers can use to see how well the audience is being engaged by any one video. Video analytics show how long someone watches your video, for one – that's a major measure of engagement.
Pretty awesome, huh? (At my core, I'm an art geek with a big logical and analytical side thrown in there, too. So I love this stuff!).
And that is what we are going to be covering in today's blog.
To that end, I've got some really cool updated results from the new client I talked in our last blog post.
Curious to see?
If you missed the post, you can see it here. Cathy is the founder of NoNetz, which is a business that provides men with bathing suits that don't chafe their nether regions. 🙂
I used video analytics software to measure YOUR engagement level (as well as the other readers of this blog).
Yes, you tuned in and watched Cathy's video earlier this week. (If you missed it view the video in this blog post)
If you want video analytics to use with your videos, run over here to Wistia. It's kinda like YouTube when you upload
your video to their site. But their analytics are much more advanced.
Here is what the data said about your engagement level with Cathy's video.
Keep in mind, the reason she chose us was because she wasn't happy with her old marketing video. She said it wasn't engaging her audience. They just were not sticking around to watch the whole thing.
Well, how did the new one – the AdToon whiteboard video – fair?
Take a look at the data below.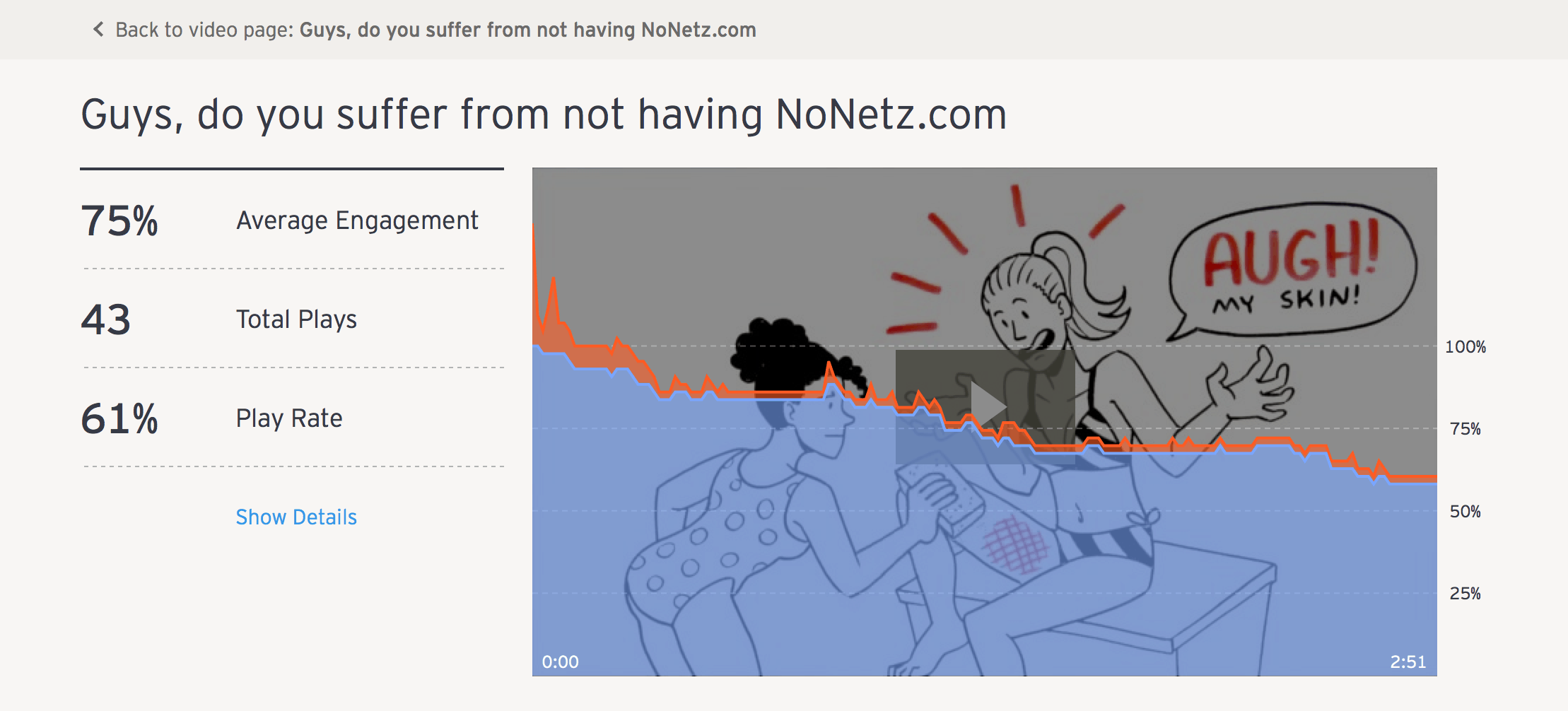 So a couple things to know when looking at the data.
The blue line is where a viewer watched and where she or he dropped off. The orange line is the RE-WATCHES, which means a person went back to look at the material again.
The "play rate" measures whether someone watched the video when they arrived at your site.
And one of the most important data points is the "average engagement."
For this this video, the average engagement was…SEVENTY-FIVE PERCENT.
Pretty good, eh?
That means 3 out of 4 people are watching this video all the way through to the end. Yes, this was a small sampling of viewers. But this why Cathy hired us. To engage her audience.
But let's look at three factors surrounding this that make it even more compelling:
• You had no vested interest in the material.
But what about viewers who arrived at the video after Googling "stop chafing" or glimpsing a banner ad about that topic that grabbed their attention? They'd be even more engaged.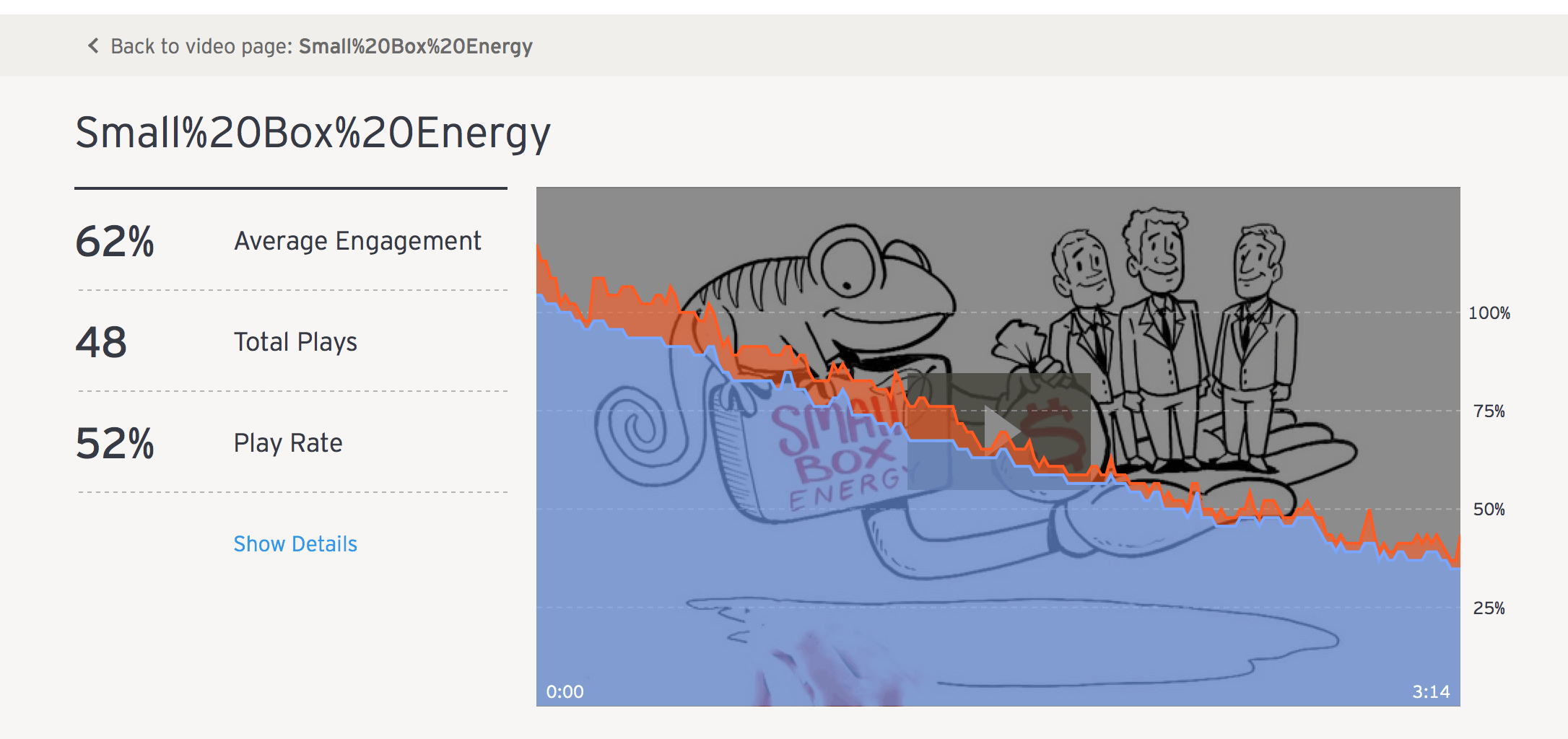 • Look at the NoNetz video data compared to another fun video we did for a different client (above). Yes, it's a fun video as well, and many people would be happy with a 62% level of engagement. But we beat this one by almost 15%.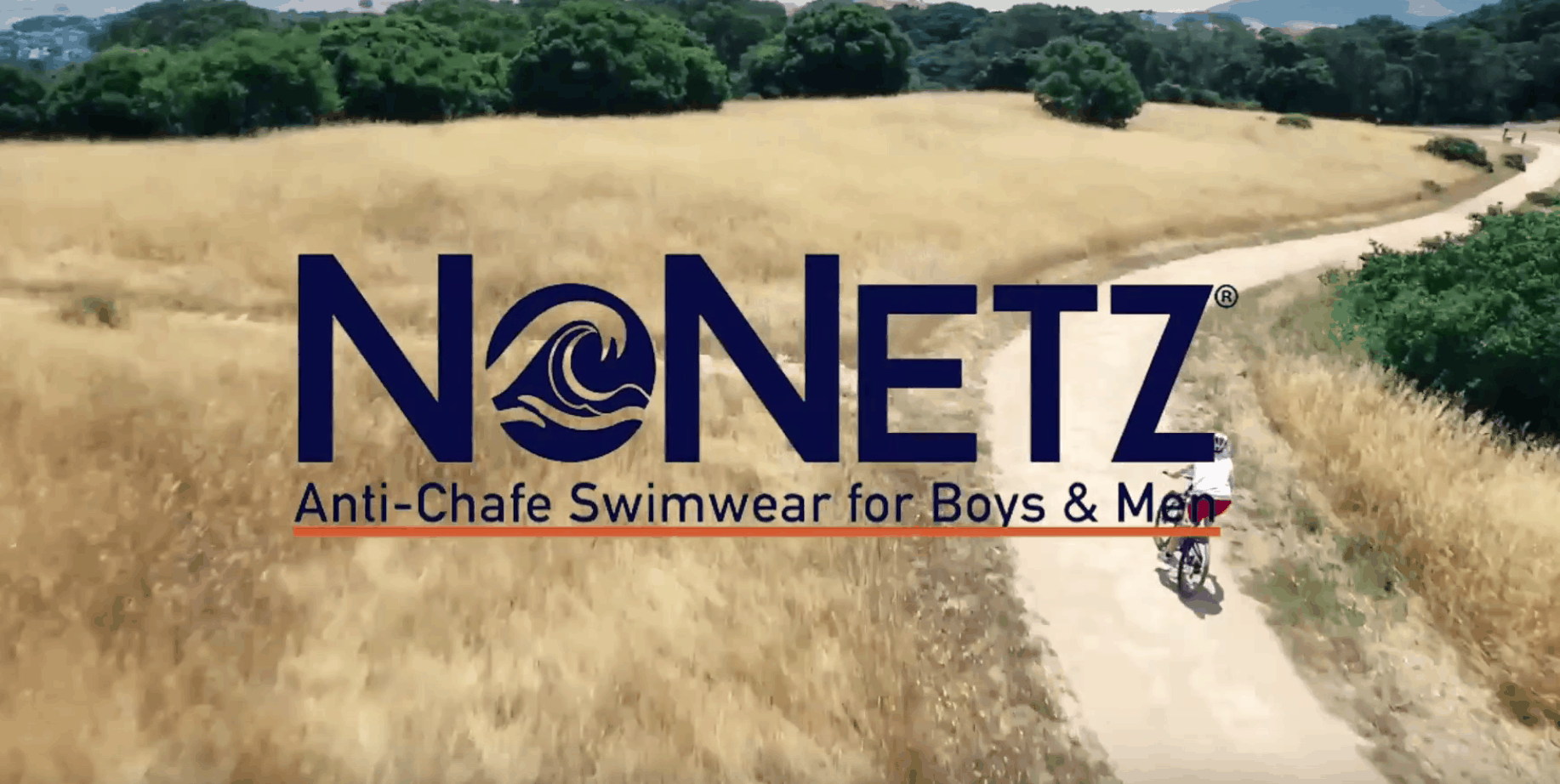 • Keep in mind Cathy's previous video was 40 seconds (seen here).
This AdToons video is nearly three minutes long. How long do you keep your audience engaged? You might say: "But my audience has a short attention span, Vince."
Well, this should answer that.
How exciting!!!
So why do you think this NoNetz piece did so well?
Two things. One: our hypnotic hand-drawn videos. And two, the humor bits we added really kept people watching. We had a client in today, and we showed her this video. I kept track of how many chuckles she had throughout; it was a good four to five evenly spread throughout the whole video. Believe me, they were hearty chuckles too.
Yes, with time and more eyeballs, the data will sink to a lower number. However, this should level off at a very respectable engagement rate.
Why is that important? The more people who listen to your message, the more that will act on it. This helps reveal how vital engagement is.
It's what I tell people all the time, you don't need more traffic to your website to grow your business. You need higher engagement! You need more people to simply understand your value proposition.
All this means more moolah in your back pocket. More money to do the things you love. To take care of your family. To bring on another employee and grow your business further.
You get the gist.
Cathy was open to walking the fine line of being professional and fun. I think this will work out well for her.
And she's happy. Here is some initial feedback from her:.
"Vince and his team were so much fun to work with. What a great, creative process. With minor direction, they were able to take key competitive differentiators for my product and weave into an engaging cartoon. The entire production time – from start to finish – was just 3 weeks! We love the outcome!"
Cathy Paraggio
NoNetz.com
If you want to walk the fine line of being professional yet fun to grow your business, make sure to line up a time with us to chat. We can only take 2 more projects in the next couple months You can get in line here, and we'll schedule a call.
Best,
Vince Palko