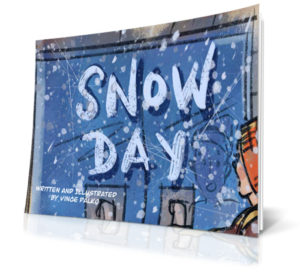 Two things…
First, if you have children in the range of 5-10 years old, or know family or friends with young children, they will love this…
If they are athletes, even better.
I've written my first children's book, called Snow Day. So fun!!!
This book teaches children about the joys of being active in the wondrous outdoors. Foreign to most children these days. But to those who do venture out — adventures abound! It's inspired by a true story with my older brother.
A lost art these days, if you know what I mean.
If you have young children, I'm sure you'd agree a Snow Day these days means video games and sleeping in. When you drive down a street the yards are empty. No one throws a ball. No one rides a bike. Children don't know what they are missing. Snow Day spins a great memory of a time before the hand-held electronics…where children talked face-to-face and played outside, like backyard football. You might say my goal in writing Snow Day is to get the next generation outdoors, exercising and having a blast — yes even in the chilly winter.
This book has been in the works for some time now.
And it feels super awesome to have it done and dusted.
Important: LOOK FOR ANOTHER EMAIL in the next couple of days to purchase a copy.
Now onto the second point.
If you have written a book or in the process of and would love to make it more engaging and fun, then head over here.
We have illustrated many books and newsletters. We also help clients format newsletters in a unique complete cartoon format. You can see samples on this page.
It's our passion.
So if you want to read more, check out this page.
We look forward to hearing from you.
Remember, your story transforms into something magical
once you draw it out in a cartoon. (Think Disney)
Ciao for now,
Vince Palko