The other night I stayed up late researching Walt Disney, one of the greatest entrepreneurs of all time.
It's pretty amazing when you think of it. He created the first cartoon motion picture when everybody around him doubted it would be successful. When the money ran out for that first flick, Snow White and the Seven Dwarves, he had to act out the final scene in order to get the last piece of funding to finish the movie.
Snow White was a raging success. And with that money, Walt built Disneyland, which today is worth a cool $40 billion.
From afar it seems he was bouncing around from movies to theme parks and back again. Think again.
Look close and you understand he was building his empire. I got to see exactly how he had arranged his business plan while at a recent conference.
It looked like a mind map, which you may use in your own business. Theme park was in the middle and items like movies, cartoon strips, and merchandise were in circles surrounding the park with spoke-like lines drawn to the center of the park.
His strategy was for the movies to drive people into the parks and vice-versa.
He had laid out his media empire in this visual business plan.
Pretty genius.
That brings me to your business. As Dan Kennedy says, "Everything is media." You want your name on as much "stuff" as possible, all pointing people back to your business.
So… let's start building your media empire.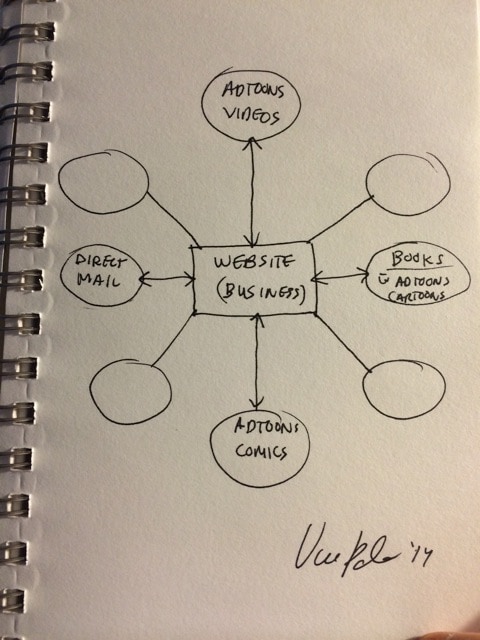 Take out a piece of paper and pen. Do this now. Start by drawing a rectangle in the middle of a blank page and label it "Business (Website)."
Surround that box with six to eight circles. And push lines out from each one of the circles until it connects with the rectangle in the middle.
Taking a page from Disney, in one of those circles write "AdToons Videos." After all, each one of these is like a mini major motion picture. And if you are serious about marketing your business, the AdToons video is the ideal way to do so. These are also known as whiteboard videos.
Continuing on…
In next circle, write AdToons Comics. These are fun engaging sales promotions in the form of a dynamic comic.
Next, "Books" or "Ebooks" are excellent forms of media. This is another way driving traffic to your site. If you need cartoons to enliven the content, we can assist with those as well.
"Social Networking Info-graphics" can be billboards that point to your website. Of course, we do those with a cartoon flair.
And on and on.
When you are done, you will have your marketing plan. And on and on.
This is an important process. When you are finished you will see clearly how online traffic finds you. This way you can continue to evolve ways to get more eyeballs on your business. Everyone on your team will be on the same page. You can add elements in. And take elements out.
AdToons is no longer in the video-making business. We are in the empire-building business. We help our customers expand their reach, casting a giant net over your target audience to connect and deliver your products and services.
We can assist with designing your website. We can develop charismatic cartoons comics. We can support you with social media infographics. Create cartoon illustrations. We can do it all. And AdToons videos are just the tip of the iceberg.
Smart marketers learn from the greats like Walt Disney and model that success. Maybe one day you too will rule your niche.
Don't have an AdToons video? No prob. Simply run over to this whiteboard page and sign up today. If you are interested in one of the other services we mentioned above, simply state that on the sign-up form, and we will cover that on the call.
I look forward to mapping out a plan of attack for your marketing campaigns.
Best,
Vince Palko