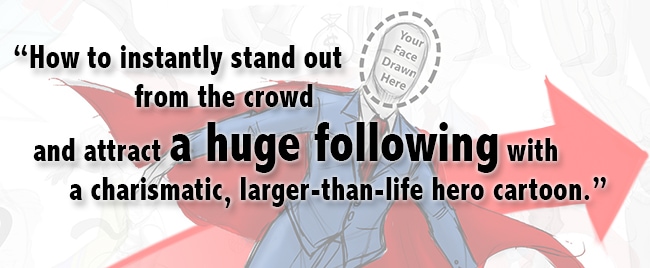 Dear SuperHero Marketer,
There is a reason why the GEICO Gecko is used over and over again. He disrupts traditional, boring insurance industry ads. The fun-loving cartoon adds humor and personality, and instantly brands the ads with a recognizable character.
Maybe you've been meaning to have a cartoon created for your own business. No matter what business you are in, cartoon characters add life and a coolness factor to your ads. You now have the opportunity to showcase yourself and your brand with your own cartoon character, and in the process, attract the notice of your prospects and customers. AdToons is here to help you every step of the way.
Here's what you get:
1 fully colorized SuperToon character personalized with your likeness. You can take this and use it in on your website, a blog, a business card, a blog, a direct mail piece or all the above!
Here's how to get your own SuperToon:
1) After you click the Add to Cart button, you will receive an email with a menu of superhero poses to select.
2) Then email us your photo to personalize your hero to your likeness. Our email is marketing@adtoons.com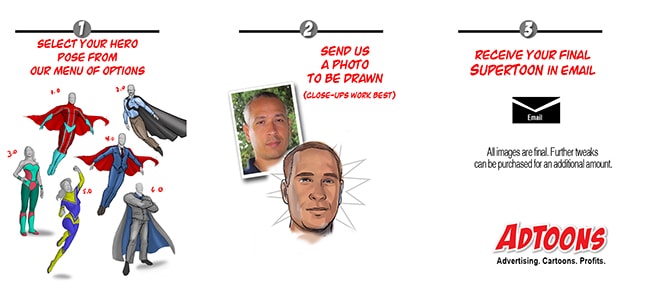 Your SuperToon will arrive via email in just two weeks.
Our packages are normally $997 for a signature cartoon. But we are running a special! If you sign up NOW, you pay ONLY $500.
Buy One, Get One Free – Limited Time Offer
If you are one of the first 50 people to order, you can pick a second pose FOR FREE! That's right, two for the price of one. This is something we have never done and don't plan to keep valid for very long…so hop on this NOW! Click the order button below and select from a large array of poses on the next page. So place your order right away.
If you want to tweak the superhero pose, no problem. For any color or illustration changes, please add $200. If you want us to create a complete custom cartoon character that is unique to you and you only, add $1,497. You will also receive a website header and business card design.